Student Success
If you are interested in learning more about how Communities In Schools impacts kids in Georgia, read our CIS stories below. If you have a CIS success story that you would like to see featured, please send to printern@cisgeorgia.org.
Mentoring Makes A Difference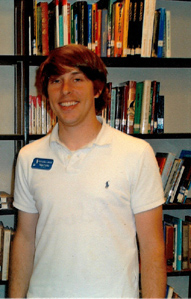 Daniel Gordon of Hart County, a CIS Americorps member, has made a tremendous impact on the students that he has worked with at Hart County High School (HCHS). Working as a tutor in mathematics and science areas, Gordon has consistently gone above and beyond to ensure that students understand the material and are prepared for success in the classroom. Outside of academics, students say Gordon discusses future plans and goals with them. Students are now excited about learning and have seen positive improvements in their grades. Tracey Stewart, the Graduation Coach at HCHS, echoes this praise for Gordon; Daniel consistently helps students "on the edge of failing achieve the victory of a passing grade." Debbie McCurley, mother of a student tutored by Gordon, writes that "Daniel has been a true life saver and motivator for my son!" Gordon is truly making a difference in this community and in the lives of these high school students.
Thank you Gordon for all you do for Communities In Schools and our students!
New Program Aims To Increase Science Test Scores
A new partnership has flourished thanks to Jackie Whitt, Cobb County Performance Learning Center® (PLC) principal and Dr. Army Lester at Kennesaw State University. PLCs provide an alternative learning environment for high school kids who are not succeeding in the traditional school setting. The goal of the new the science program is to improve student's critical thinking skills and provide realistic information regarding science careers. The curriculum is aligned with the state's high school science curriculum. PLC students are engaged in hands-on learning experiences in the area of science with laboratory experiments conducted by college students. "This program helped me understand some of the components involved with science and I'm sure I will increase my test scores as a result. I have also become interested in attending Kennesaw State and majoring in science," said Raven Greer, PLC student. Click here to learn how students and their peer tutors view the classes.
Mock Job Interviews With A Twist

The Southside Performance Learning Center® in Brunswick wanted students to experience mock job interviewing from a different perspective during their Day of Caring event sponsored by the United Way. Each business representative had a different persona. Some were busy doing other things while interviewing, others were grouchy and disengaged. These scenarios provided students with insight into how to act and react when these types of distractions occur. "It really helped me because it taught me to be respectful no matter what the interviewer is doing or how they're acting," said PLC senior Jakarri Hughes.

During the event, students also received resume writing tips and participated in a roundtable discussion with business professionals regarding how to articulate strengths and respond to tough questions.